Pack list for OCS
First of all, you are to show up at OCS in proper civilian attire. Don't obsess over this; nobody will care as long as you don't look disgusting. I wore khakis, a collared long sleeve shirt, a belt, and dress shoes. I wouldn't wear anything too nice, you'll be wearing the khakis for at least a 2-3 days. I wore a coat because it was winter.
Pack your gear in a sea bag or a big duffel bag. Don't bring a suitcase. I brought a large hockey-style duffel bag and it worked perfectly.
Mark everything you bring with your last name. You can either write directly on the item, or write on a piece of tape and stick it to the item.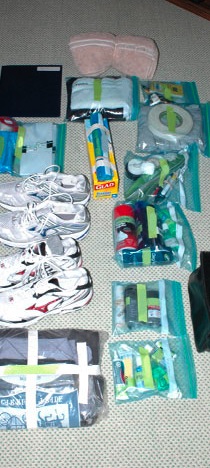 Next, pack everything in labeled Ziploc bags. It is easier and faster to pick up 10 Ziploc bags off the ground than 50 individual items scattered around.
Bring 10 pre-labeled Ziploc bags for the items you are issued during large and small bag issue. The night before pickup, make sure everything has your name on it, and everything is in a Ziploc bag. You should be able to fit almost everything in your duffel bag, instead of having to use the issued laundry bags (which can tear in the middle of the parade deck in the middle of the night).
At the end of pickup, you will be told to put your civilian gear in your bag, which will go in the civilian gear room. Put your nasty civvies that you've been wearing (including your shoes), your 1 set of nice civvies, and your civilian underwear in your bag. You will get it back before liberty. Put your cell phone and other contraband you brought in the contraband locker, it does not belong in your civilian bag. The reason I say to put your cell phone in the contraband locker instead of leaving it in your car is if you have a family emergency, the staff will give you your phone and let you talk on it outside, giving you some privacy.
Here is what I would suggest you bring to OCS. The required items are marked accordingly, the rest is optional. If you want to bring as little as possible, bring only what is required. In my opinion, the items listed below will not be too much to haul, and will make your time at OCS a little more pleasant.
The following list was compiled using the OCS Shipping Guide, other blogs, and input from newly commissioned 2nd LTs. A giant thank you to John G. and Caleb H. for bringing this list up to date!
CLOTHING:
Required:
2 collared shirts (1 worn)
2 undershirts (1 worn)
2 pairs of slacks, pressed, with belt (1 worn)
1 pair of dress shoes (clean, worn)
5 pairs of underwear
5 sports bras (females)
2 pairs of serviceable running shoes (purchased within 3 months, 1 worn)
Recommended:
1 pair of broken-in boots
2 pairs of dress socks (1 worn)
1 towel (small for travel)
1 pair of compression shorts
4-5 pairs of Thorlo Boot Socks (black or coyote)
1-2 pairs of good boot insoles (I highly recommend SuperFeet)
Optional:
1-3 pairs of white running socks (don't bring super low-cut, and no logos)
1-3 Skivvie/PT shirts
1-3 Skivvie/PT shorts
HYGIENE:
Required:
1 toothbrush
1 tube of toothpaste
1 razor
1 can shaving cream (travel size)
1 stick of deodorant
1 bar of soap or bottle of body wash
Recommended:
2 packs of extra razor blades
2 bottles of travel mouthwash
ChapStick
Female hair supplies
Manicure Kit (for inspections)
Hygiene Bag
Optional:
1 tube Lotrimin Ultra
1 tube sunscreen
1 stick of BodyGlide
Antibiotic ointment
MISC:
Required:
1 rugged, water resistant watch
At least $450.00 of cash or credit/debit for initial issues (bring some in small bills)
1 pair of eyeglasses as required (2 recommended)
Recommended:
Electrical tape – to secure the straps of your day pack and ILBE pack
1 Red Lens Headlamp (I brought a Petzl and loved the red filter on it)
2 small all-weather notebooks (Rite in the Rain – small enough to fit into a cargo pocket)
6-inch ruler
2 erasable pens – black
2 mechanical or #2 pencils
Personal name stamp kit (1/2 in. capital letters with tape)
4 rolls of 1″ white athletic tape
1 roll of electrical tape
1 pair of small scissors
10 Ziploc bags – Quart
10 Ziploc bags – Gallon
Shipping packet from your OSO (including copies of your orders to OCS)
Copies of all dependent's papers (marriage certificate, divorce decree, birth certificates, and adoption papers)
Cell phone and charger (will be turned in to the staff and given back at liberty)
Photos of your family
Optional:
2 rolls of 1/2″ white athletic tape
1 roll of duct tape
2 erasable pens – red