$7 Red Sox active duty military tickets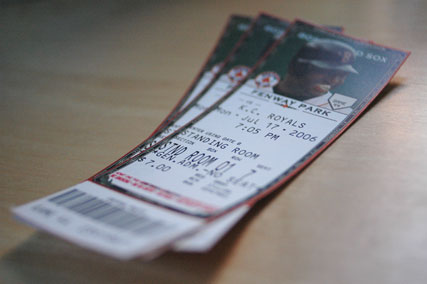 Went to the Red Sox vs Kansas City Royals game 2 days ago via the "active duty armed forces" deal. We showed up around 4:45PM for a 7:05PM game and there were only 6 people in line in front of us.
Mirabelli hit a three-run home run in the seventh to tie the game, and Manny Ramirez hit a sac-fly in the eighth to give the Sox the victory. Will Ferrell, dressed as Luis Tiant, threw out the ceremonial pitch prior to the game. Very random, but cool.
The special military line is located at Gate B (check out a map here). Tickets go on sale 2 hours prior to the game. The cost is $7 per ticket and you can only buy two tickets per active duty ID (no exceptions). The tickets are standing room only, which isn't bad as long as you stake out a spot early. In my opinion the best place to stand is behind section 24 & 25 in the infield grandstand. I think the number of available tickets varies per game, so I would arrive very early for a big game. Once you get your tickets, you are forced to enter the park to prevent scalping, so plan ahead.