First appointment at Hospital for Special Surgery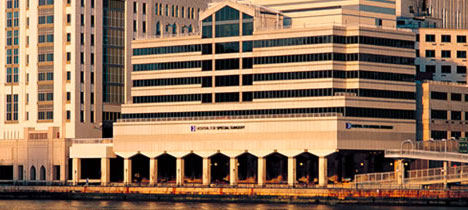 Just got home from the Hospital for Special Surgery (HSS). Had my first meeting with my new surgeon, Dr. P.
I chose HSS because they are the #1 rated hospital in the country for orthopedics. They perform around 2,600 hip replacements each year and more joint replacements than any other hospital in the country. They're located on the opposite side of Manhattan on East 70th.
After stopping by radiology for a couple x-rays, I headed to Dr. P's office. I didn't wait long, and after Dr. P examined my gait and range of motion, he looked at my x-rays. He explained that due to the avascular necrosis, my hip has basically become a square, instead of the nice round shape it was previously. The damage is so extensive that my only option is a total hip replacement.
While most would think this isn't good news, it is to me. I was afraid he'd say that I wasn't a good candidate because of my age. I asked him if I would have to receive multiple hip replacements as the hip wears out. He explained that the type of material he would use for the joint itself may need to be replaced as it deteriorates, but it is a small piece, and isn't a major procedure. I hopefully won't need any additional total hip replacements.
After we talked for a bit about the Marine Corps, stress fractures, and soccer, Dr. P sent me to his office manager to set up a date for surgery. I picked January 5th. My plan is to finish school, take a couple weeks off, celebrate Christmas and New Years, and get a new hip!