Femoral neck fracture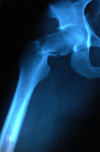 A femoral neck fracture occurs just below the ball of the ball-and-socket hip joint; this region is called the femoral neck. When a femoral neck fracture occurs, the ball is disconnected from the rest of the femur.
The most important issue with my femoral neck fracture is that the blood supply to the fractured portion of bone is often disrupted at the time of injury. Because blood flow is diminished, the fracture is at an elevated risk of not healing (hip osteonecrosis), especially in my case, where the fracture was badly displaced. If the fracture does not heal, a partial hip replacement will most likely be necessary. Unfortunately, hip replacements tend to wear out in younger, more active patients.
During surgery, a small incision was made on the outside of my right thigh. Using x-ray, the surgeon placed three screws across the fracture in order to stabilize the broken femur.
The sad news is, statistically only about 25% of patients who sustain a broken hip return to their pre-injury level of activity.